Queen Elizabeth II death at the age of 96 will be forever written as a saddest day in the history of Britain. She died peacefully on Thursday afternoon at her Balmoral Castle in Scotland. She was the Britain's longest serving monarch, ruled for over 70 years.
Queen Elizabeth II was a British monarch of integrity, high principal, grace and high moral values. Now after her death her son Charles, Prince of Wales become a King Charles III of Britain and his wife Camilla Duchess of Cornwall, will become a Queen Consort.
Her Majesty's 70 years of reign saw drastic changes in Britain's social, political and tech world. She saw a 15 British Prime Minister's come and go, begin from Winston Churchill to Liz Truss.
She lives a remarkable royal life; here look at the timeline of her life from 1926 -2022.
Queen Elizabeth II: Timeline of her Life in Images -:
Duke and Duchess of York later known as King Goerge VI and Queen Elizabeth holding young Elizabeth born in 21st April 1926. Her full name is Elizabeth Alexandra Mary Windsor. Her nickname was 'Lilibet'.
Family picture of Queen Elizabeth II when she was a small kid. From right young Elizabeth, her father Albert, Duke of York, her younger sister Princess Margaret and her mother Elizabeth, Duchess of York.
Young Elizabeth with her dogs Dookie and Jane. Her Majesty's love for corgi breed of dogs is known worldwide, she had approximately more than 30 corgis.
Since childhood she loves riding horses, which later become her one of the favourite hobby.
Young Eilzabeth and her sister sudying and painting together. Queen Elizabeth II never went to school and college. She was home tutored by her famous governess Marion Crawford. She learned history, Languages, music and literature.
Young Elizabeth, her mother Queen Elizabeth, her grandmother Queen Mary of Teck , her sister Margaret and her Father King George VI during His coronation in 1936. King Goerge VI ascended to the throne after his brother King Edward VIII abdicated from the throne, because he wanted to marry a US divorcee Wallis Simpson.
While at Buckingham Palace she joined the girls scout and also enrolled as a Sea Ranger to participate in water sports.
During the time of World War II Queen Elizabeth II and her sister princess Margaret was sent to Windsor Castle for safety purpose. In 1940,14 year old Princess Elizabeth at the right side made her first radio broadcast during the BBC'S Childern Hour and sent best wishes to all children who were sent to abroad US,Canda, Newzealand for their safety.
Princess Elizabeth in her first public appearence greeting Grenadier Guards in 1943 and later she was appointed a Colonel for them.
In 1945 at the age of 18, she particiapted in WWII by joining Auxiliary Teritorrial Service a women branch of British Army and appointed honorary second subaltern. She trained as a driver and mechanic there.
Queen Elizabeth II joined her family on 8 May 1945 to celebrate Victory in Europe Day at the balcony of Buckingham Palace (at the centre British Prime Minister Winston Churchill)
Princess Elizabeth and her husband HRH Prince Philip waving at the public from the balcony of Buckingham Palace, during the time of their wedding. They wed in 20th November 1947 at Westminster Abbey.
Elizabeth with her one month old son Prince charles at Clarence House in London. She gave birth to her first child Prince Charles on 14 November 1948.
Elizabeth with her family. Her second daughter Princess Anne was born on 15 August 1950. (Princess Anne sitting at a pram)
Princess Elizabeth returned from shortened Commonwealth tour as Queen Elizabeth on 7 Feb 1952, after her father's death. Winston Churchill, Clement Atlee and Anthony Eden greeted her at the London Airport.
Queen Elizabeth II coronation ceremony on 2nd June 1953 at Westminster Abbey. The coronation was televised for the first time and watched by millions.
A family portrait of Queen Elizabeth. From Left Prince Charles, Prince Edward, Queen Elizabeth II, Prince Philip,Prince Andrew and Princess Anne.
Queen Elizabeth first visit to USA in 1957. During the time of her visit US President Eisenhower welcomes her.
Queen Elizabeth II at the White House dinner party, with US President D.Eisenhower, First Lady Mary Eisenhower and Prince Philip.
Queen Elizabeth II addressing United Nation General Assembly in New York in 1957.
US President John F. Keneddy, Queen Elizabeth II, First Lady Jackie Keneddy and Prince Phlip at Buckingham Palace, during their UK tour in June 1961. It is famous in tabloids that Jackie Keneddy was not impressed by Queen dressing sense and hair style. Queen Elizabeth II and Jackie' s meeting was featured in the TV series The Crown.
Queen Elizabeth II dancing with the Ghana's President Kwame Nkrumah at a farewell ball in Accra, during her visit to Ghana in 1961. It was considered as the controversial trip and change the course of history.
Queen Elizabeth II with her son Prince Charles at his Investiture ceremony in 1969. This ceremony was held to give Prince Charles a title of 'Prince of Wales'.
Queen Elizabeth II during her royal visit to Canada in 1978, she was surrounded by the native american people.
At a balcony of Buckingham Palace, Newly wed Prince Charles and Princess Diana, with Queen Elizabeth II. Prince Charles married to Princess Diana in 1981, together they both have two children Prince William was born in 1982 and Prince Harry in 1984. They both seperated in 1992.
Riding Horse with US President Ronald Regan in the grounds of Windsor Castle,England, during his visit to UK in 1982.
Queen Elizabeth II with Indian Prime Minister Indira Gandhi during her royal visit to India in 1983. She visited India three time in 1961,1983 and 1997.
Queen Elizabeth II with her grandchildren Prince William on right and Prince Harry at left at Guards Polo Club,Windsor in 1987.
Queen Elizabeth meeting the grieving public outside the Buckingham Palace after Princess Diana's death due to a car crash in 1997. Public was extremely sad about the untimely demise of their Princess Diana, and Queen Elizabeth II was criticise for her strange behaviour over Diana's death.
Queen Elizabeth II, with US President Barak Obama, First Lady Michelle Obama and Prince Philip at Buckingham Palace royal dinner. US President Barak Obama first time visited UK in 2011.
Queen Elizabeth II celebrating her Diamond Jubilee of her reign in 2012.
Queen Elizabeth II officially open the London Olympic Games 2012 .
Queen Elizabeth II sitting next to the fashion icon Anna Wintour at London Fashion Week 2018
Queen Elizabeth II standing alone at St. George Chapel during the time of her husband Prince Philip death in April 2021. This picture of her took the internet by storm as people speculated that Queen is now sad and alone. It is one of sad picture of Her Majesty.
Queen Elizabeth cutting a cake and celebrating her platinum jubilee in February 2022. It was the last moment of her celebration.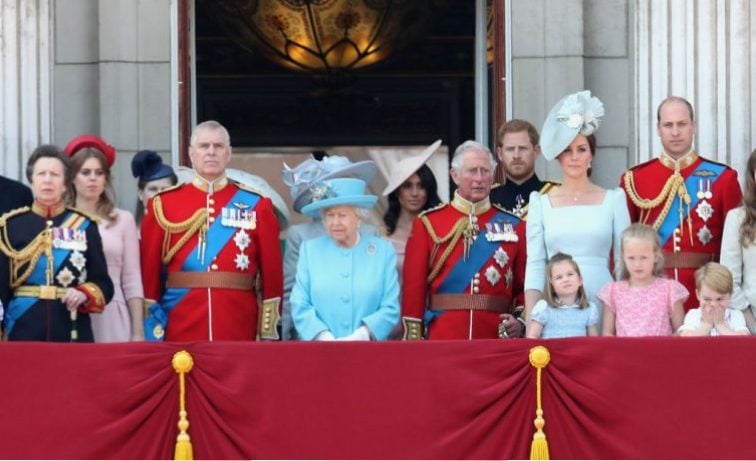 Queen Elizabeth with her sons, daughter, grandchidren and great grand children at the famous balcony of Buckingham Palace,celebrating her platinum jubilee.